Can You Use Plywood for Your Stair Stringers?
Yes you can and I've seen it done more than once. I lived in a mobile home that used plywood to create the sides of a three-step stairway.


Now I would like to point out a few problems with stairways like these, before you start using plywood stringers for large projects.

This particular stairway is about 24 inches wide and less than 30 inches tall. It would almost make more sense to build something like this out of plywood, instead of construction standard lumber like 2 x 6 and 2 x 12.

Plywood and oriented strand board can produce extremely sturdy stairways.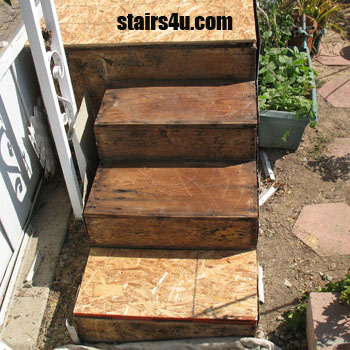 You've probably heard me mention this before, but the trick to keeping your plywood stairways in good shape, will be to maintain them regularly.
Back To - Building Stair Questions
Back To - Stair Stringer Questions And Answers


Feel free to email us with your questions. (Go to bottom of page and click on contact for email address.)