Stair Railings
Stair railing is often referred to the stairways handrail system and these systems come in all difference shapes and sizes, they're built out of wood, metal, plastics, fiberglass and concrete. Stair railing systems are built from many different materials to give them different styles and designs.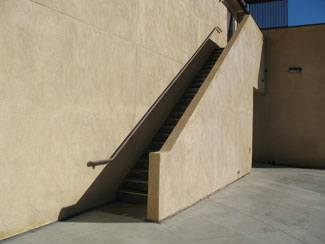 The most common use of materials for stair handrails will be either wood or metal, out of the two of these wood is the most popular. Wood often brings a soft more natural look to a home where metal seems to create a cold and clammy atmosphere.

The main purpose of this stair railing is to protect the people using the stairs from falling off or over the stairway. With this in mind, this hand railing will have to be securely fastened to the stairway to prevent you from falling off of the stairs, along with the broken stair railing.

Some of these handrails systems are massive and extremely strong, while others are thinner and a little bit weaker. Often you will run into a metal railing that will be thin but extremely strong, other times you will run into a large wood hand rail that will be a little wiggly or lose.

A loose newel post our stair handrail, could create a problem with the stairway safety and should be repaired or replaced as soon as possible. The stair handrail will act as a guard rail, as well as something to grab onto, while walking up and down the stairs.

A stair handrail creates an illusion of safety and security for most people. If the handrail was not there, you would find most people, walking up the stairs very carefully and of course some people avoiding the stairway altogether.

Keep in mind stair railings should be safe and secure first and cosmetically appealing to the eye second.