Commercial Stair Treads
Commercial stair treads are used in commercial buildings, even though they might not have a lot of traffic. However, these stairways had better be safe and the stair treads had better have plenty of traction. It's not uncommon to find people carrying a wide variety of items and different sized packages up and down these stairways, all day long.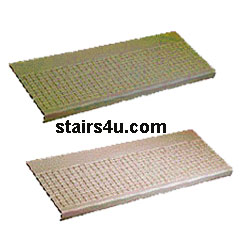 Commercial Stair Tread Tips
1. Make sure that the stairway is designed correctly and meets all local building codes. This isn't just good solid safety advice, this is also advice that could save you a lot of money, if anyone ever got injured.

2. Rubber stair tread covers provide slippery or smooth stair steps, with some of the best traction you could pay for. If you work in a commercial building and have executives, secretaries or other workers with smooth shoe bottoms or high heels, you'd better plan on having a non-slip stair step.

3. What do you do? You don't want to spend a lot of money, but you have a stairway with smooth treads. Don't panic, there are plenty of alternatives that are reasonably priced.

You can purchase non-slip tape, stair nosing and even large skid resistant pads that will stick to almost any stair step, without spending a fortune.

4. You might not even have a choice, if you run a large business, your insurance company, will tell you exactly what they want you to do, when it comes to stairway safety. If you don't make the necessary repairs that they request, your insurance rates could go through the roof.

5. I think the best tip I could give any commercial building owner or occupant is to," maintain the stairway." If you have any non slip tape, pads or rubber tread covers, make sure that they are securely fastened to the stairway, at all times.

Recently I was in a store that had a rubber safety mat at the front door, with one corner sticking up about 2 inches. I didn't trip on it, on the way in, but witnessed a few people tripping on the, "Safety Mat, Get It," on the way out.

All it would have took was a pair of scissors, to remove this particular safety hazard or install a new mat. Commercial stair treads should be made out of non slip materials and should be securely fastened to the stairway.
Back To - Stairs / Stair Treads