Balcony - Home Building And Framing
A balcony is an area that protrudes from the exterior of the building and can be accessed through a door for other openings.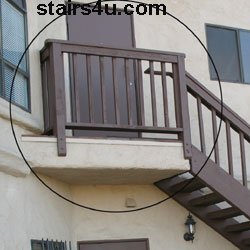 The balcony in the picture above actually cantilevers from the house. Part of the balcony floor framing system goes back into the second floor of this building, to provide the structural strength necessary to hold up the balcony.

Balconies come in all sorts of different shapes and sizes. Don't forget to make sure that your balcony handrails meet your local building codes, also.


Balcony Home Building And Framing Tip
Building a balcony and using it to connect your stairway to the building, might require a structural engineer. Again, I don't know how many times I've run across an unsafe balcony or a staircase that was built by an inexperienced trades person.

If your balcony or stairway isn't structurally sound, you could be creating a safety hazard.
Stairs
/
Stair Glossary
A
B
C
D
E
F
G
H
I
J
K
L
M
N
O
P
Q
R
S
T
U
V
W
X
Y
Z