Cantilevered Stairway
A cantilevered stairway can refer to a couple of different types of stairs. The one you're looking at in the picture below uses a cantilevered deck to attach a freestanding set of stairs to the building.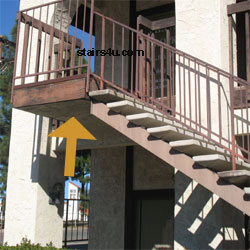 There are other stairways that use different methods for cantilevering the stairs or treads. You can let your imagination go wild, when it comes to designing these types of stairs.

The first rule that you need to understand about cantilevering all most anything is that the building materials you use should only extend one third of the way out of the building, while the other two thirds of the materials are securely fastened to other parts of the building.

If you're planning on building a stairway using a cantilevered framing system, it wouldn't be a bad idea to check with a structural engineer, in order to verify your design, before its built.

Just because your uncle Earl build something similar, doesn't mean that you can. A poorly designed stairway is probably going to be unsafe and unsafe stairways are usually just an accident waiting to happen.
Stairs
/
Stair Glossary
A
B
C
D
E
F
G
H
I
J
K
L
M
N
O
P
Q
R
S
T
U
V
W
X
Y
Z