Handrail Brackets - Stair Building Parts
Handrail brackets are used to attach your stair railing to a wall or guard rail. The picture below provides you with an excellent example of a handrail bracket that's being used to connect a gripable wood handrail, to a finished wall.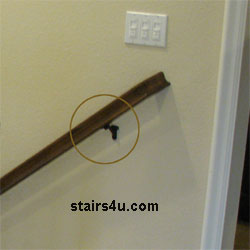 Every once in awhile, I come across some good news that I can't wait to share with my readers. Are you sitting on the edge of your seats in anticipation, well then here it is.

Most of the time, you can find handrail brackets for under five dollars. Wow, how's that for good news?

Handrail Bracket Purchasing Tip: Make sure that you match the handrail bracket to the type of handrailing you're going to be installing. I've seen some pretty wacky combinations that stick out like a sore thumb.

Remember, you can always ask someone else for assistance, when selecting your handrail brackets.
Stairs
/
Stair Glossary
A
B
C
D
E
F
G
H
I
J
K
L
M
N
O
P
Q
R
S
T
U
V
W
X
Y
Z