Moisture Management - Stair Construction Damage Prevention
Moisture management is the prevention of building material failure, including wood damage. If there's one element I can think of, that causes the most damage, in homes today, it's water and it often comes in the form of moisture. Moisture attracts termites, rodents, mold, mildew and a wide variety of other creatures.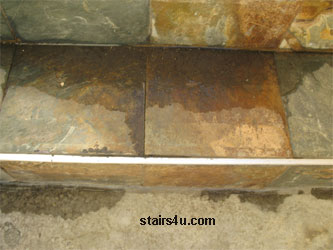 The picture above represents the bottom section of a stairway that's rarely used. It sits behind a large commercial building and is in desperate need of a few moisture management repairs.

If the stair builder understood the importance of angling each stair step, just a little bit, towards the front of the stairway, you wouldn't be looking at this picture. However, that wasn't the case and this stairway is going to suffer in the long run.
How Can You Prevent Water Damage?
Water damage isn't going to be as big of a problem on the interior of your building as it will be on the exterior. As long as you have a good roof and exterior wall covering and your building foundation has been constructed properly, you shouldn't have a big problem with moisture on the inside of your home.

The main concern for most builders about moisture management is going to focus on the exterior. Snow, rain, fog and high humidity can wreak havoc on a poorly constructed building or exterior projects.

The best advice I can give you about moisture management would be to check out a few books from your local library or purchase your own, from your local bookstore. Education is the key to successful building and there's plenty of people working in the construction industry today who aren't familiar with the damage moisture can do to a building.
Stairs
/
Stair Glossary
A
B
C
D
E
F
G
H
I
J
K
L
M
N
O
P
Q
R
S
T
U
V
W
X
Y
Z