Concrete Stair Footing
Concrete stair footings provide additional support for your stairway. Now you're probably wondering, how would anyone know how wide or deep to make these concrete foundation supports./p>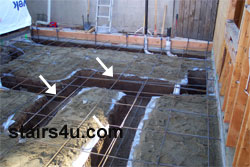 Have you ever wondered what goes under a structural wall in a concrete building foundation? Take a look at the picture on your right and you will notice some large holes, that someone dug out of the ground. These holes are eventually going to get filled up with concrete.

A structural engineer provides the builder with all of the necessary information to build the concrete foundation, including the dimensions for the concrete stair footing. If you notice, they used reinforcing materials, otherwise known as rebar to add even more strength to the buildings foundation.
Some stairways are extremely heavy and if they were built without any structural supports, the foundation could start to sag. That's right, eventually the concrete slab would start to sink into the ground, creating additional problems for the building.
Stairs
/
Stair Glossary
A
B
C
D
E
F
G
H
I
J
K
L
M
N
O
P
Q
R
S
T
U
V
W
X
Y
Z