Foundation - Concrete And Stair Construction
Most building foundations use concrete to create the floor of a building and use footings that are partially embedded into the soil. Foundations are used as a starting point, to construct a house, hotel, apartments, condominiums and even exterior decks.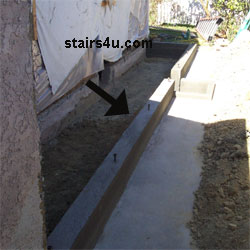 The picture above provides you with an excellent example of a concrete building foundations footing. This footing is for a room addition and the floor is going to be built out of wood, instead of concrete.

This type of foundation is called a raised foundation. Raised foundations use concrete footings to support a wood framed floor.

A slap on grade type of building foundation uses concrete footings to support a concrete floor that sits directly on top of sand or soil.

There are other types of building foundations that are simply, engineering marvels. A post-tension building foundation uses cables, in the concrete, to eliminate interior footings.

I wonder what type of building foundations contractors will be working with in the future.
Stairs
/
Stair Glossary
A
B
C
D
E
F
G
H
I
J
K
L
M
N
O
P
Q
R
S
T
U
V
W
X
Y
Z