Framing Anchors
Framing anchors are used to attach home building materials to other home building materials. In the picture below, we're using a galvanized metal framing anchor to provide additional support for our stair stringer and ledger connection.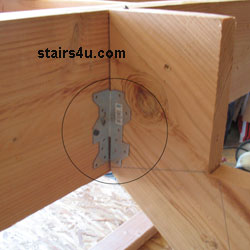 There are other types of framing anchors that can be used to attach wood to concrete, wood to wood, metal to metal and of course metal to wood and concrete.

Items like joist hangers, angle tread brackets, angle brackets, beam hangers, post supports, nails and even screws, fall into the category of framing anchors.

Even an anchor bolt that's used in the construction of a concrete building foundation, can be used to anchor or attach, your wall framing plates, to the foundation. Structural hold down posts are also held down to the concrete foundation, by using special framing anchors.

If you're not getting enough information about building stairs, keep reading. There's plenty of helpful tips throughout the entire website.
Stairs
/
Stair Glossary
A
B
C
D
E
F
G
H
I
J
K
L
M
N
O
P
Q
R
S
T
U
V
W
X
Y
Z