Landing Footing - Concrete Building Foundation
A landing footing is a hole that was dug and filled with concrete, underneath your building foundation, to provide additional support to the stairway. The picture below provide you with an excellent example of a stair landing footing, with structural reinforcement.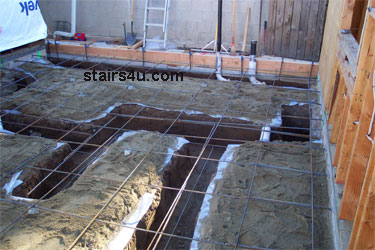 Even though the structural engineer requested that this particular room addition, needed additional support for the stairway, it probably would have lasted for years, without it.

At least one, if not two of these footings could have been eliminated, because they were only supporting the weight of the stairway. The other footings are being used to provide additional support for the second floor and roof framing.

Remember, this is only my personal opinion and I'm basing it on information I've received over three decades of working in the construction industry. I've seen plenty of stairways built on the ground or even on top of a 4 inch concrete pad without any structural reinforcement.
Should I Argue With The Structural Engineer?
Absolutely not, even with the experience I have, working with engineers and architects, you should develop an ability to put yourself in their shoes. Most of them are just trying to protect themselves from future lawsuits.

If the engineer adds an additional footing here or there, they're not going to be paying for it, the property owner will be responsible for that one. However, by adding a few additional footings here and there, they will be reducing the risk of building failure in the future.

Contractors, architects, engineers, property owners and almost everyone involved in the construction industry, understands their responsibilities or liability. Most of them have a good reason for the things they're doing, all you need to do is ask.
Stairs
/
Stair Glossary
A
B
C
D
E
F
G
H
I
J
K
L
M
N
O
P
Q
R
S
T
U
V
W
X
Y
Z