Concrete Stringer Pad - Stairway Building
A concrete stringer pad is the concrete foundation used for the stair stringers to sit on. The picture below is a good example of a large concrete stringer pad, located next to a commercial building, to provide the occupants with access to the parking lot.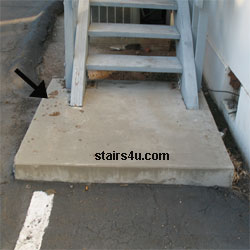 The concrete stringer pad usually isn't going to be located in the interior of the house or building. The stair stringers would simply sit on top of the homes wood or concrete building foundation.

You will normally find these concrete slabs on the exterior of the building, separate from the building foundation. They can also be used for decks, remodeling and building renovations.

For example: If you were going to install a new deck in your backyard, that would require a set of stairs, you're probably going to need a few concrete footings and at least one concrete stringer pad, for your new stairway.
Stairs
/
Stair Glossary
A
B
C
D
E
F
G
H
I
J
K
L
M
N
O
P
Q
R
S
T
U
V
W
X
Y
Z