Soft Woods - Stair Building Lumber
Redwood, Cedar and Pine are considered to be soft woods. Soft woods are usually easier to work with than hardwoods, but are also easier to scuff and mark, during use. The picture below provides you with an excellent example of one of the most popular soft woods in the United States, Southern Pine.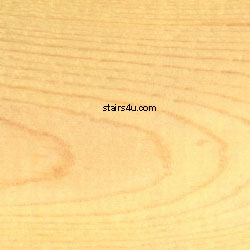 Should I Use A Soft Wood Or Hardwood To Frame My Stairway?
You can use both, but the grade of lumber you're going to be looking for is generally called construction standard lumber. On the west coast of the United States, Douglas Fir is the most popular construction standard lumber used for framing stairs.

On the East Coast of the United States, Southern Pine is a popular construction standard lumber. I don't recommend using soft woods or hardwoods that aren't regularly used for framing homes.
Should I Use Redwood Or Cedar To Build My Deck Stairs?
Either one will work great for decks and your deck stairs. However, I would like to point one thing out, if I was going to build a deck and money was no object, I could build the entire thing at a Redwood or Cedar.

That's not the case for most homeowners and money actually is a major concern, of theirs. Most decks and deck stairways are built out of construction standard lumber and then covered up with Redwood or Cedar decking.

The cost to build an entire deck out of Redwood could be astronomical. If you're planning on using Cedar, make sure that you get a tight knot, number 2 or better grade to work with. When some types of Cedar dries, the knots often become loose and if you used it for stair treads and decking, you're going to have some problems.
Stairs
/
Stair Glossary
A
B
C
D
E
F
G
H
I
J
K
L
M
N
O
P
Q
R
S
T
U
V
W
X
Y
Z