Can I Attach My Stair Stringers To The Wall?
You can attach stair stringers to wall framing, but it would be difficult to attach them to some types of siding, stucco, brick, block and a few other surfaces.

As a matter of fact, I recommend attaching all stair stringers to anything that will provide you with more stability and increase the structural strength of the stairway.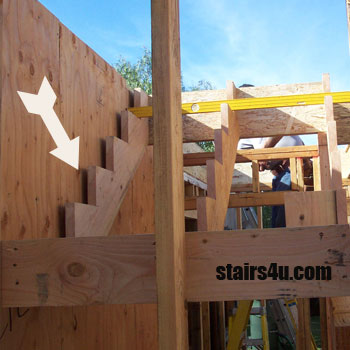 Here's something I rarely see, but it would be an excellent way to fasten the stringer securely to a wall and that would be to simply nail through the other side of the plywood shear panel, into the stair stringer or stair stringer drywall and skirt boards spacer.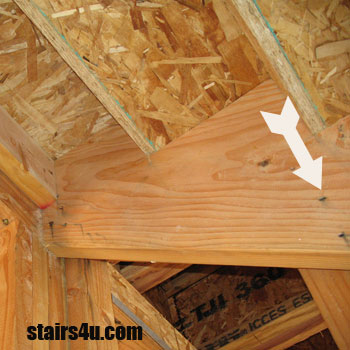 You can easily attach a stair stringer to a wall like the picture above, as long as you're not using anything larger than a three-quarter inch thick spacer or no spacer.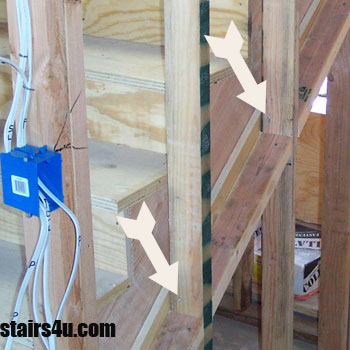 I usually end up toe nailing through the wall framing stud, into the stair stringer, from the other side. However, either way will work fine.

Remember, if have a 2 x 4 nailer attached to your stair stringer, you will need to toe nail through the wall studs, into the spacer that should be firmly attached to the stringer.

If you need a little extra support, you could always use some type of building hardware, angle brackets or straps to securely fasten the stringer to a wall or other parts of the building framing.
Can I Attach Stair Stringers To A Stucco Wall?
Can I Attach Stair Stringers To Brick or Block Walls?
Can I Attach Stair Stringers To Siding?
Can I Attach Stair Stringers To Interior Drywall or Plaster?
Back To - Building Stair Questions
Back To - Stair Stringer Questions And Answers
Feel free to email us with your questions. (Go to bottom of page and click on contact for email address.)